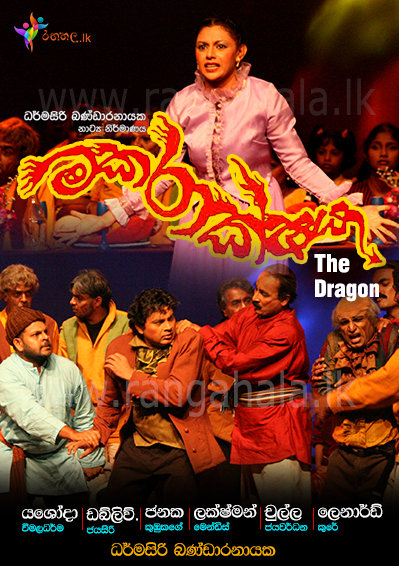 For more info :
Directed by: Dharmasiri Bandaranayake
The story of 'Makarakshaya' revolves around Elisa, an ordinary girl who is soon to be taken away as a bride by the city's guardian, the Dragon. She is the 'chosen one' for the year, The Dragon's choice, merely because of her beauty. She reluctantly accepts her plight and tries to prepare herself mentally for the unforgettable day. It's a public secret that, once chosen, a girl will never return. A handsome young worrier, Lancelot, without the shinning armour, walks in to this city. He sees the depression amongst a certain section in society. He wants to help change the plight of young Elisa. The story then moves on to depict the means deployed by Lancelot in his efforts.
The play stars Yashoda Wimaladharma, W. Jayasiri, Janaka Kumbukge, Lakshman Mendis, Chulla Jayawardena, Susantha Kahandawalarachchi, Nilmini Buwaneka, Oshadhi Gunasekara, Wathsala Ranasinghe, Jagath Muthukumarana, Amil Gallanga, Arunod Wijesinghe, Kosala Lakshitha, Sudesh Wickremaratne and Tissa Bandaranayake.