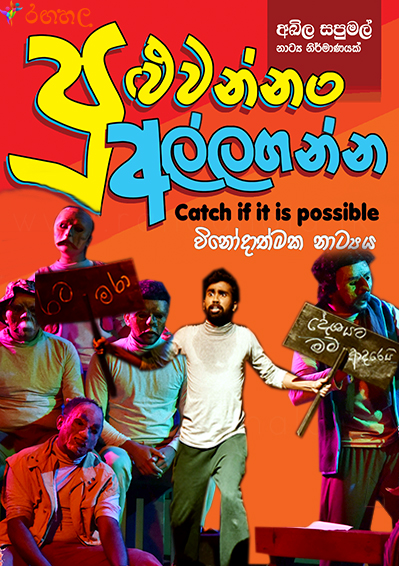 Directed by : Akhila Sapumal
පොළොවෙන් උපන් පුත්තු 2008/ රාවණ ආදරයේ හුස්ම ළග 2011/ ඌ වීරයා 2012/ බැකී 2013/ හිනාවෙලා මිනිත්තුවක් 2014/ විකාරම හැන්දෑව 2015/ ගිරිකූඨ කාශ්‍යප 2016/ ගුත්තිල කාව්‍ය 2017
හිතවතුනි, නාට්‍ය රසිකයිනි… ගමම සිනාවෙන් පිබිදෙන්න, මගේ අලුත්ම නාට්‍යට ඔබත් එකතු වෙන්න.
රංගනය
අඛිල සපුමල්/ තිලංක ගමගේ/ ඉමායා සෙව්වන්දිකා/කිත්මිණි හේමචන්ද්ර/උදිත ලියනගේ/ දිල්රංග ඈපා/ සුසන්ග කදවලාරච්චි
නිශ්පාදනය- අඛිල සපුමල්/සුජීව සිරිමෙවන්
පුළුවන්නං අල්ලගන්න 2018
තත්කාලීන සමාජය තුළ ඔබ නොදැකපු ඔබව අපි ගේනවා වේදිකාවට. හිනාවෙවි පුළුවන්නං අල්ලගන්න…
අපරාදේ මේ රට….මේ සිතුවිල්ල ඔබට කෙදිනක හෝ ඇවිත් ඇතිනම් මේ නාට්‍ය බලන්න අමතක කරන්නෙපා. මගේ කලින් නාට්‍ය බලපු අය විශේෂයෙන් මේ නාට්‍ය බලන්න. ඔබට මේ නාට්‍යත් අල්ලගන්න පුළුවන් වෙයි. 09 වෙනි වරටත් මම කරන මේ සංකීර්ණ උත්සහායට ඔබ නොමසුරුව දායක වෙන්න. හිතවතුනි ඔබයි මගේ වත්කම.

Tel: 071 860 5991, 077 443 5500
Please Contact these numbers to make arrangements to stage this drama in your location.